Installation with WAMP
From Habari Project
WampServer is a Windows software package containing Apache, PHP and mySQL that enables users to easily install Habari on Windows.
Install WampServer
Download and install the WampServer package. Check the basic operation of the WAMP package by starting all WAMP Services and accessing the Web site.
http://localhost/
The default WampServer page including the Apache and PHP versions should be displayed. Also note the inclusion of the required Apache extensions ('PDO' and 'pdo_mysql').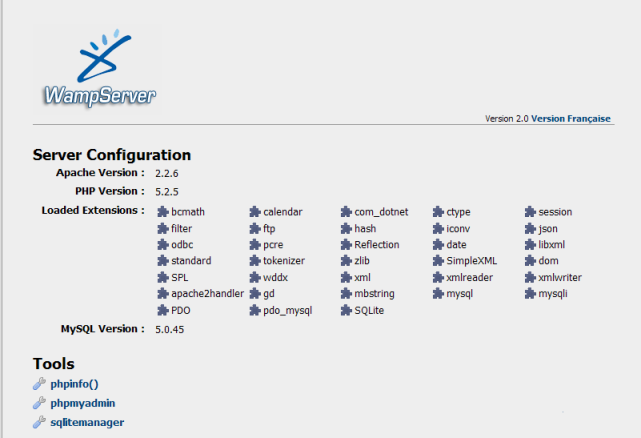 Create a mySQL database
Create a mySQL database with an associated database account for use with Habari. Use the phpMyAdmin utility. Select 'Privileges' to create a new user e.g. 'habari'.
Check the option
'Create database with same name and grant all privileges'
Make a note of the username and password credentials.
Configure Apache
The default settings for the Apache Web Server bundled with WampServer result in a '500 Internal Server error' when trying to install Habari.
Internal Server Error
The server encountered an internal error or misconfiguration and was unable to complete your request.
Please contact the server administrator, webmaster@localhost and inform them of the time the error occurred, and anything you might have done that may have caused the error.
More information about this error may be available in the server error log.
When the Apache error log (Apache-Apache error log) is examined, the following Apache error is recorded
D:/wamp/www/habari-0.4/.htaccess: Invalid command 'RewriteEngine', perhaps misspelled or defined by a module not included in the server configuration
To fix this problem, simply enable the Apache Rewrite module from the WAMP menu (Apache-Apache Modules). Scroll down the list and ensure 'rewrite_module' is checked.
After this configuration change, all Wamp services should be stopped and restarted (Restart All Services). Installation of Habari should now complete successfully.
Install Habari
Download the Habari distribution and extract the files to the Web Server root directory (D:\wamp\www\habari).
Bring up the Habari installation page in a Web browser - http://localhost/habari/ - and simply follow the standard Habari installation process.